In its widest-ranging teacher-related research study to date, Cambridge University Press has found that 69 per cent of global teachers would still choose the profession if they were given the chance to start their career again, despite the challenges of their role. With over 10,000 responses from 166 countries, the World Teacher Survey gives real insight into what it is like to be a teacher in the 21st century.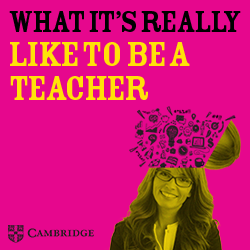 Focusing on the global challenges of the education sector, the publishing business for the University of Cambridge set out to understand more about the changing needs of the modern classroom around the world.
Open to teachers across all educational levels, the survey asked for views on a number of topics including: what makes teachers happy, the reasons why they chose a career in teaching, the general demands they face, and what organisations – including publishers – should be doing to better support them.
Despite citing challenges, from administrative work to managing mixed-ability classes, the majority of teachers responded that they would go into teaching again because of the profession's non-monetary rewards. These included seeing students achieve their goals (79 per cent) and helping them to overcome challenges (70 per cent).
Peter Phillips, Chief Executive of Cambridge University Press, commented: 'As part of the University of Cambridge, we exist to advance knowledge, learning and research. That means understanding how the needs of our customers are changing.
'With rapid technological advances, the jobs of tomorrow have never been harder to identify. Preparing children for their futures is becoming ever more difficult, especially with increasing pressure to deliver strong examination results. So I'm proud to see that in our survey, 94 per cent of teachers believed that education is more than exam results.
'The transformation in education over the past decade is creating both opportunities and challenges. Our World Teacher Survey gives us new evidence to help address some of these challenges directly.'
The survey highlighted that the greatest difficulty for teachers today is managing mixed ability classes – 41 per cent of respondents noted this as the most challenging aspect of their job. Despite the positive majority, challenges such as this are having an impact. Over a quarter of teachers asked stated they would discourage a relative or friend from becoming a teacher (27 per cent) and one in ten would choose a different profession if they were given the chance to start their career again.
The World Teacher Survey ran from March to July 2018 and was available in ten different languages. To view the report, go to worldteachersurvey.org
About Cambridge University Press:
Cambridge University Press is part of the University of Cambridge. Its mission is to unlock people's potential with the best learning and research solutions. Playing a leading role in today's global market place, the Press has over 50 offices around the world.